Home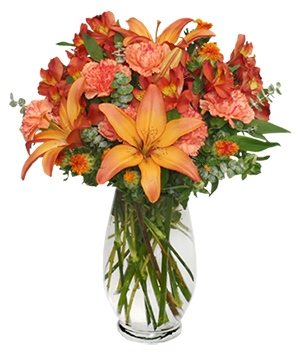 WARM CINNAMON SPICE
Floral Arrangement
Add a dash of autumn to any room with this striking bouquet! Filled with gorgeous orange carnations, dark orange alstroemeria, orange Asiatic lilies, and more, Warm Cinnamon Spice is a delightful seasonal mix. Send some spice to your loved ones today!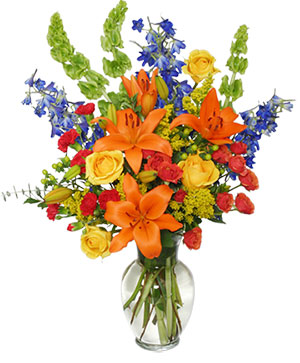 AWE-INSPIRING AUTUMN
Floral Arrangement
These vibrant fall flowers will have everyone saying, "Wow!" Filled with radiant orange 'Asiatic' lilies, yellow roses, blue delphinium, bells of Ireland, and more, Awe-Inspiring Autumn lives up to its name. Send your loved ones some fall vibes today with this exquisite bouquet!
Due to current circumstances, we are only available for residential deliveries on Monday-Friday. We do, however, make funeral deliveries 7 days a week.
Also, due to current supply demands we are unfortunately unable to stock some of our regular products (specific plants or flowers, vases, etc.). Therefore, we reserve the right to substitute for equal value, and appreciate your understanding during these difficult times.
SAME DAY DELIVERY, DELIVERY TIMES, AND PRODUCT AVAILABILITY CANNOT BE GUARANTEED, ESPECIALLY DURING HOLIDAYS.