Home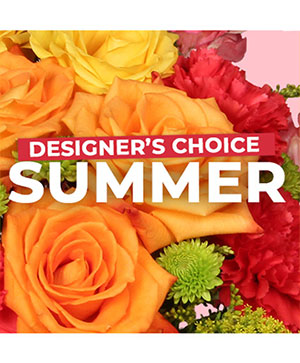 Summer Flowers
Designer's Choice
Summer is the time for fresh flowers! Bring that sunny outdoor feeling indoors with our Designer's Choice Summer Flower Arrangement. We'll create something that will have you celebrating the beauty of the brightest season of all! A colorful bouquet is exactly what you need to warm up your summer home.
More Info
Due to current circumstances, we are only available for residential deliveries on Monday-Friday. We do, however, make funeral deliveries 7 days a week.
Also, due to current supply demands we are unfortunately unable to stock some of our regular products (specific plants or flowers, vases, etc.). Therefore, we reserve the right to substitute for equal value, and appreciate your understanding during these difficult times.
SAME DAY DELIVERY, DELIVERY TIMES, AND PRODUCT AVAILABILITY CANNOT BE GUARANTEED, ESPECIALLY DURING HOLIDAYS.